Community of Practice
Populism is a global phenomenon, a common problem for many actors who are professionally confronted with it, be it as politicians, journalists, people working in education and civil society institutions, etc. So let's also tackle it together and learn from each other and with each other. All forms of participation are free of charge and underlie high data protection standards. For this reason, registration is required for participation.
---
Why should you join the We-Europeans Community of Practice
to exchange ideas with peers from all over Europe in the forum
to read interesting blog articles and also write articles yourself
to participate in face-to-face and online events
to get information about the topic as well as about good practice examples in countering populism
to participate in a MOOC on countering populism (from summer 2023).
---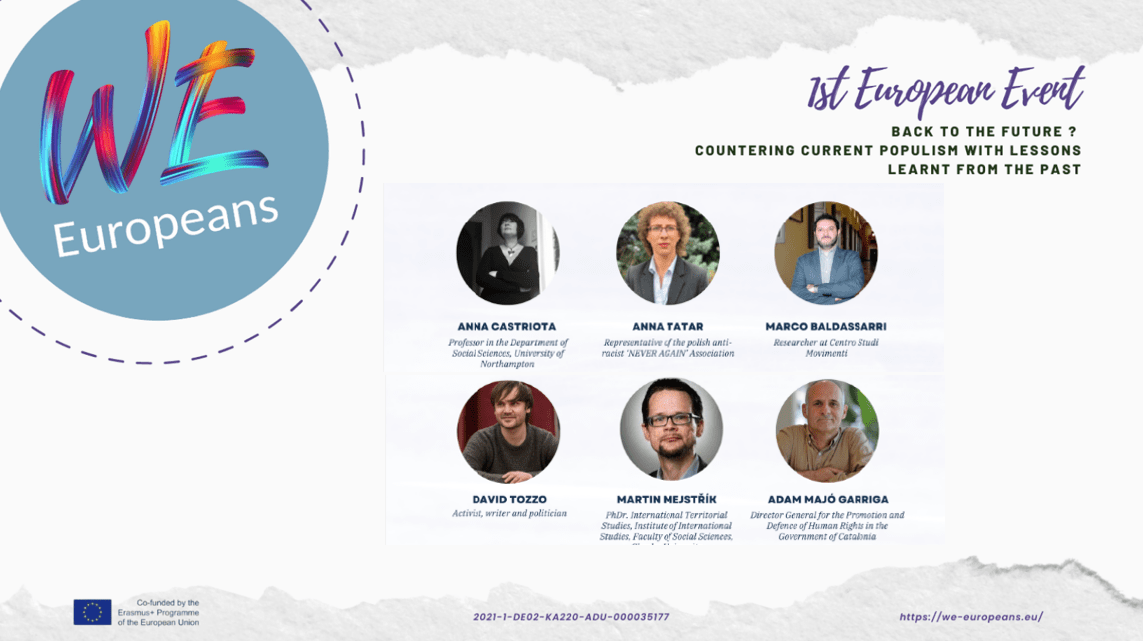 Documentation of the online event is online
We thank all speakers and participants of the online event on 9 November.
If you were not able to attend, or would like to watch some of the experts' statements again, you can see the complete video recording in the "Our events" section, contributions from the individual speakers and a
summary can be found in the YouTube playlist.
Save the dates
4 May 2023 (2 hours): Media in an age of populism and popularisation
The Rise of Populism is direclty connected with damages to journalism. The dramatic rise of fake news, populist campaigns against the media, how media can contribute to fact-based discourses but also the role of social media will be topic at our seminar in relation to the World Press Freedom Day.
4 October 2023 (2 hours): Building democratic values at schools
The role of schools in increasing democratic values will be discussed around the world teachers day. How can educators in different educational levels support the acquisition of skills required to support democratic values and reject populist attitudes that divide society, how to deal with populist learners or colleagues… let´s exchange.