This is a gross distortion of what the Scottish Government has said.
In November, a message from Scotland caused a stir on social networks. It said the Scottish Government had "finally" admitted that wearing a mask, which had established itself as an important form of protection in the wake of the corona pandemic, was harmful to health. A "concerted campaign" has allegedly achieved that "the routine wearing of masks in social facilities" should be ended. More than 70,000 users read this claim on Telegram alone.

The author/sender of this supposed news is the blog "The daily skeptic", which criticizes hygiene measures and has already attracted attention in the past with false reports. A spokesman for the Scottish Government rejected this statement to the Reuters news agency and said: "This is a gross distortion of what the Scottish Government has said. We are clear that facemasks have been and remain a crucial preventative measure against the spread of COVID-19."

On September 7th, the Scottish government loosened the regulations on wearing masks in care facilities. Since then, visitors and nursing staff are no longer obliged to wear masks. However, health workers, for example in hospitals and doctor's offices, are still recommended to wear a mask.

Read the post from Twitter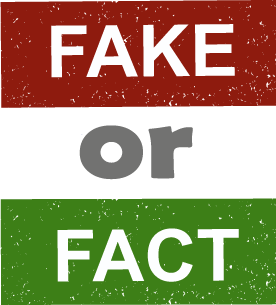 It's a term that everyone knows by now: fake news. Fake news, deliberately scattered disinformation intended to manipulate people. In recent years, the amount of this fake news has increased as rapidly as the number of social media users. Social networks and media in particular are considered the "origin" of fake news.

What is Fake News?
According to the Cambridge Dictionary fake news are false stories that appear to be news, spread on the internet or via other media platforms, usually created to influence political views or as a joke. There is concern that the power of fake news might reach far enough to affect elections. There is concern about the power of fake news to affect election results.

How do I spot fake news
Fake news usually comes from social networks and online platforms, basically wherever unfiltered information can be spread.

How can I recognise Fake News?
Most fake news are a real "eye-catcher" – they confirm assumptions, pick up on current topics, target prominent people – in short: they are interesting, they're captivating , they stir up hatred or generate sympathy. Did you find such "information" on Twitter, Instagram, Facebook, or Telegram? Make sure to check where the informtaion is coming from! Who spread it first, who shared it? Profiles that are relatively new, have hardly any followers or always the same ones are probably not real profiles, but rather fakes. Also check the profile photo – does it show up in other profiles as well? Or is a verified account involved?

What if the supposed news is "backed up" with a photo or video?
Look closely! Do the foreground and background match? Was the picture/video really taken at the location stated? Pay attention to street signs and license plates. Use the image search on major search engines like Google. Upload the respective photo and you will see if and where it has already been used. It is also possible to search images "backwards" at Tineye and RevEye. Amnesty International's YouTube Dataviewer helps you find the original video and the exact time it was uploaded. This way it quickly becomes clear if the video really shows/proves what it is supposed to.

Who has an interest in spreading Fake News?
Anyone who has a strong vested interest in something, someone who wants to manipulate and does not shy away from lies. Since the beginning of the Russian war on Ukraine, for example, the amount of fake news spread by pro-Russian forces has increased dramatically.
---
Wearing masks is harmful to health?